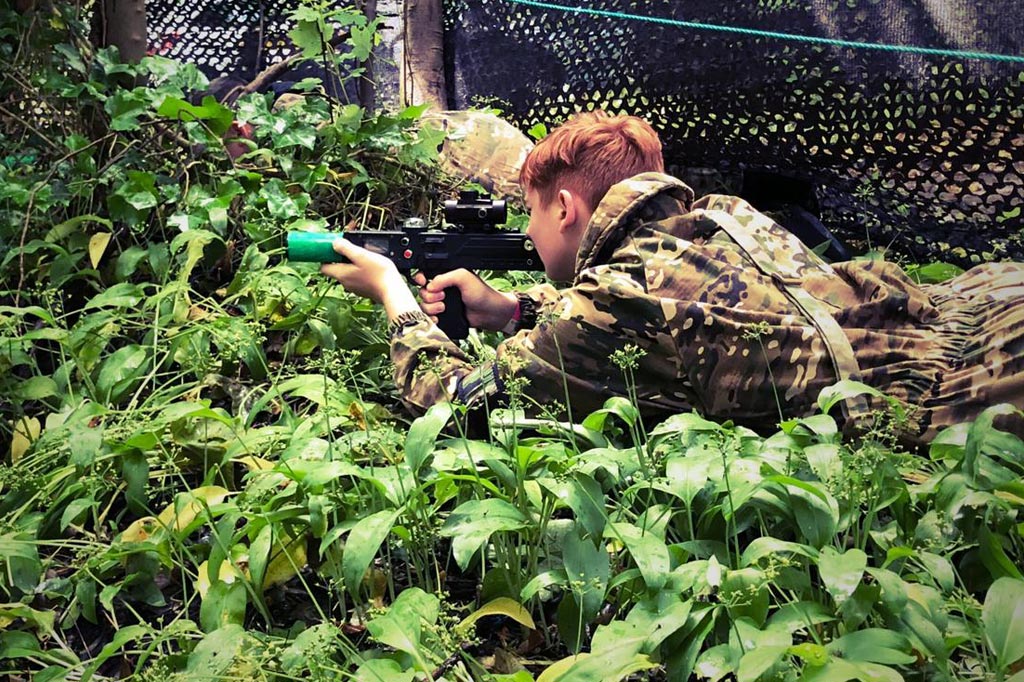 We all have someone in our life who likes to act like a big kid. It might even be you! If you're getting older but the thought of growing up doesn't sound like a tempting prospect, it can make planning a bash a bit tricky, Find out why laser tag makes for the perfect big kid-themed party for adults.
An Intense Forest Battlefield
If you're a big kid, you might spend more hours than you'd care to admit sat in front of the TV on your console. In our GO Action Forest, you'll be kitted out in full camo, armed with three laser tag guns – a Scoped Assault Rifle, a Semi-Auto Sniper Rifle and a Light Machine Gun, inspired by games like Fortnite and Call of Duty – and thrown into an intense forest battleground where you and your friends will fight for victory. Each of our guns has different stats and does varying amounts of "damage" and if you lose a life, no problem! Luckily, each player has five lives, letting you "respawn". This makes Laser Tag a great immersive experience for FPS fans.
No-Impact Fun
Unlike its sister sport, paintball, laser tag is a completely no-impact sport, meaning you can sprint, crawl and sneak your way around without fear of getting hit. While we can't guarantee that you won't wake up with a headache if you decide to follow your kid-themed adult party with a few rounds at the pub, at least you won't have the added pain of a bruised torso!
For the Big Kids and the Little Kids
While you might choose to take your mates out for a day of big-kid fun, you might also want to spend some time with your actual kids. Laser tag is just as fun for kids as it is adults – it's a great confidence booster and gets the kids out of the house and moving, but if they play more games than you do – fair warning – you might regret taking them along.
Free Pizza – Because Every Big Kid Works up an Appetite
What's the best way to top off your big-kid themed party? Pizza. At GO Laser Tag, we know you'll have worked up an appetite after a couple of fun-filled hours running around our battlefield. As it turns out, being the big kid really takes it out of you. That's why we offer free large Pizza Hut pizzas and a drink for all players for after your session. Whatever the outcome, it's the perfect way to celebrate a win or cut your losses, and it'll give you all the fuel you need for the rest of the day.
The Ideal Bonding Opportunity
The perfect big kid-themed party for adults isn't complete without bonding with your mates. Aside from giving you the chance to have a laugh, you'll need to communicate and strategise to win the game. There's no better way to cement your friendship than to band together for an all-out assault against the rival team. For your mates on the opposite team, there's nothing wrong with a bit of friendly rivalry. Either way, you'll have no shortage of material at your disposal when it comes to reminiscing with – and potentially ribbing – your friends in the future.