Contents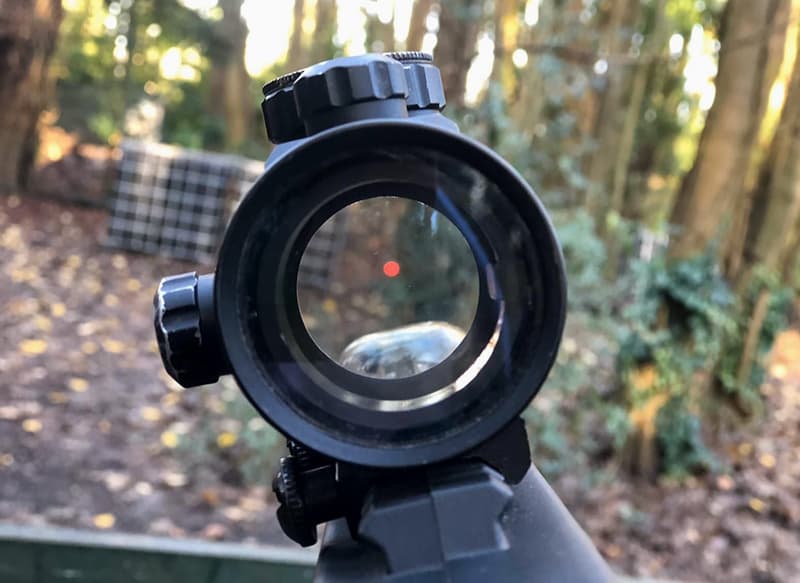 How does a Forest Laser Tag session work?
What are the timings of a normal Laser Tag session? Can I arrive early to set up the Staging Area?
We have two Laser Tag sessions running on our Public Event Days, the 11am to 1pm and 2pm to 4pm. Between April and October, we also have an 'After School' session running on Fridays, and on most public event days, from 4pm to 6pm.
We would need your full Squad with us at least 15 minutes prior to the start of your event to ensure everyone gets signed in and fully kitted up in your awesome Camouflage Combat Suits!
What time is pick up?
Customers are usually ready to leave your Staging Areas and head up to Car Park around 20 past the hour of the event ending, so for example 1:20pm. The pizzas arrive 10 minutes prior to the event ending, so this gives your Squad about a 30 minute window after games to eat, celebrate with any Birthday Cake should you wish to bring that along, and share any war stories from the battlefields!
Are you open during Half-Terms and School Holidays?
Yes! During Half-Term and School Holidays we have a lot of great mid-week availability. You can check availability for your preferred date online here.
What happens if it's bad weather on my game date?
If it is cold or rains on your game date, not to worry! This has never negatively affected our events - we run all throughout the year, through all different types of weather and fully book all year round too. Bear in mind we are deep in the forest so we have really great forest tree coverage above the Game Maps, and everyone is running around getting warm. Every player is provided with showerproof camouflage overalls, and all seated areas are undercover and under shelter. If anything, the kids absolutely love it, and we hear so much in their war stories about how much it adds to the atmosphere when they're charging around and getting all those kills and objectives!
The only time we would ever cancel / postpone your event would be for Amber or Red weather warnings of wind or storms.
What is the minimum age of a player who can participate in the Forest Laser Tag?
Forest Laser Tag is an age inclusive activity, from the ages of 6 and up able to play together! This makes it perfect for kids parties as well as families to all get stuck into the fun together. Every player strictly must be at least the age of 6+ on your Event Date.
Can parents play?
Yes - we'd always recommend this as a chance to get involved with the fun! Our Forest Laser Tag is a super family-friendly activity, with the only age restriction being that every player must be of the age of 6+ to get involved.
Will they be playing with adults?
All ages can play to together, so it ultimately depends on dynamics that are booked on for your date! This is because our Forest Laser Tag is a completely 'no impact' activity, meaning families can play together. We run a '5 metre' Golden Rule in the games, meaning players don't even get close to one another, allowing awesome games and no close engagements.
We also have Forest Paintballing at the same action-packed forest venue, which is much more popular with our adult players.
Are dogs allowed at the venue?
Dogs are welcome at the venue, but must be kept on a lead, under control and fully supervised by someone with your group at all times.
There are a few locations a short walk from venue to walk your dog should you wish (Please take a look at Google Maps):
Manor Park
Kenley Aerodrome
Queens Park
What if I only have a small group of players coming along? Can we still play Laser Tag?
Absolutely! There is no pressure to have a minimum or maximum of players as we'll always incorporate players to make for bigger and better games, to ensure the best experience for everyone regardless of your group size!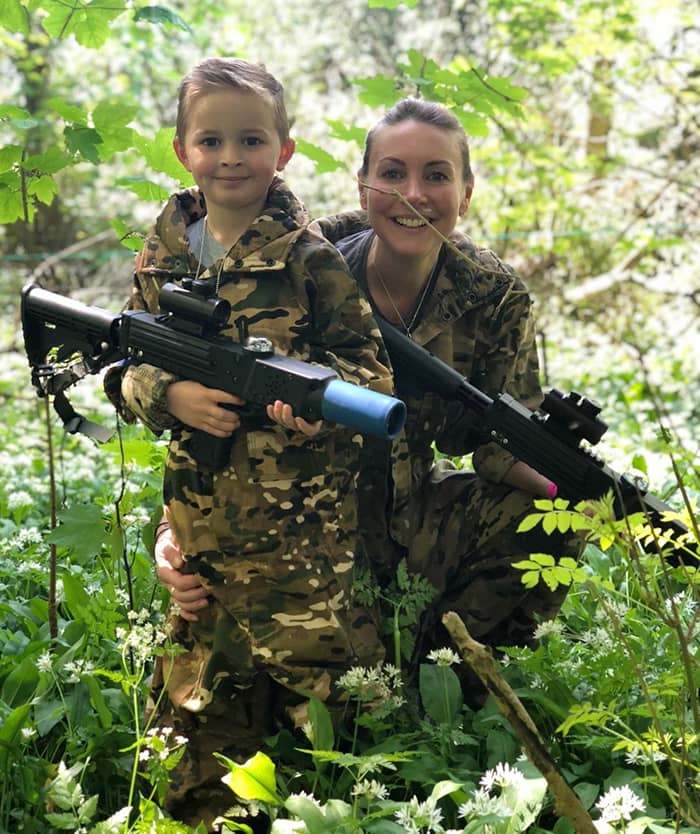 What to expect on your event date
Does every player need an entrance form?
Yes, every player will need a physical copy of their own individual form to participate. These entrance forms are attached on your Booking Confirmation, emailed to you upon booking your event, or they also will be available on the day.
Can I counter-sign another child's entrance form?
Yes, as someone over the age of 18 and as either parent, guardian or event organiser. Entrance forms will need to be counter-signed only if the player is under the age of 16.
Can I email the entrance forms to you digitally?
No, we do not store the entrance forms digitally. Every player will need a physical copy on the day as they are handed in upon 'Signing In' in exchange for a wristband.
What if I can't print them off prior to the event?
Not to worry, there will be some available on the day to complete.
What information is needed on the entrance forms?
Every player's full name is needed, their date of birth and the area they live in as an absolute minimum, with of course the player's own signature. If they are under the age of 16, a parent, guardian or events organiser's counter-signature is a necessity.
What do I need to wear?
Every player will be provided with awesome Camouflage Combat Suits that are worn over the top of what they are already wearing - typically players will opt for sportswear and something loose and comfortable for you to run around the forest in!
Suitable shoes and footwear, such as boots or older trainers are definitely advised for your game, ideally with ankle support and good grip.
It may be worth bringing a change of clothes, socks and shoes, particularly if you are playing in rainy conditions.
How do the Teams work?
Teams are split so you always play with your friends and family as well as against them, as this definitely gives the best experience for all our players. It's the main reason why people come to play Laser Tag, to shoot at friends and family and with them! Every group will be split down the middle, always on the same game map just on opposite teams, unless you have 3 players or fewer.
How do the guns work? Does it hurt when you get shot?
Laser Tag is a completely non-contact and non-impact activity. It is all done through the technology of the guns, with a sensor on the top which picks up the lasers. It is a similar activity to Paintballing in the sense of running around the forest shooting at one another, but with no worries of pain or safety you can get fully immersed in all the Forts, Villages, Towers and Bunkers! This is why it's a perfect family friendly activity!
Can we watch the Games? Can the players get lost in the Forest?
We have great viewing areas very close to your designated Staging Area - you can see all the players charging around the forest from here and getting all those objectives!
All the Game Maps are professionally designed amongst our 50 acres of Forest Battlefields, with their set areas and objectives. Our amazing Events Staff will be with them at all times, so players will know exactly where they are going and what they're doing at all times, too busy getting all those kills to get lost! Ensuring our players are safe at all times is our top priority.
Is it safe for players with epilepsy?
Being an Outdoor Forest venue - absolutely! There are no flashing light shows like the old, indoor Laser Quest-type activity, as that activity is usually played in an enclosed arena. The Laser light on our guns is more about helping players aim straighter and more directly with the other guns, ensuring maximum kills! It is similar to an infra red light on a remote control.
Do you have Disability Access? Can you cater for Additional Needs?
Just due to the nature of our outdoor forest terrain, unfortunately wheelchair access is not possible, so we wouldn't recommend it. If your Squad has any additional needs, please do let us know and most of the time we are able to get something organised.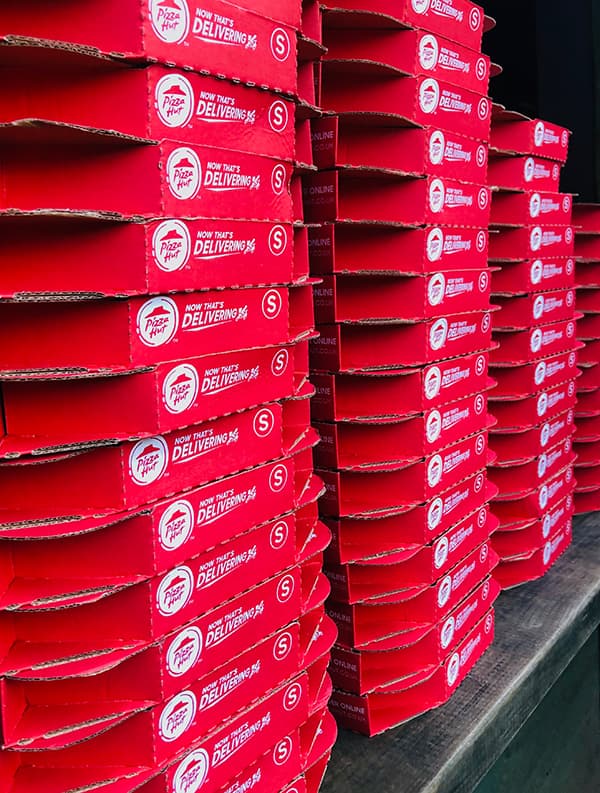 Your free Pizza Hut pizzas – venue food, snacks and drinks
What Pizza Hut Pizzas are included? How many Pizzas will my Squad receive?
Being a Laser Tag hero can be hungry work! We love to make sure everyone gets really well fed for our events, so we always include a quantity of Large Margherita (cheese & tomato) Pizza Hut pizzas at no extra cost for your group to share. The number of free pizzas we order for your group varies, as it is dependant on how players you book for, but it typically always works out at 3-4 large slices of Pizza Hut pizza per player! Each player will also be provided with a bottle of water to stay hydrated.
Can I amend the Margherita pizzas to Pepperoni, or Gluten Free?
Due to your large pizzas being shared and the huge quantities of pizzas ordered daily (feeding close to 600 people a day!) at our venue, it isn't possible to make changes to your free inclusive pizzas. This is because for the majority it is easier for dietary requirements and religious reasons.
However, the great news is that there are no restrictions at the venue at all with you bringing any of your own food, drinks or snacks. So if you have specific dietary requirements, or wish to bring extra snacks, you are more than welcome to bring your own! We can also order additional small or large Pepperoni, Gluten Free or Cheese-Free pizzas on top of those that are included free of charge - please give us a call on 0208 935 5638 to pre-pay this or speak to our lovely Events Staff when you're with us on the day. Any orders made on your event day would need to be done 1st thing.
Should you need it, or have any allergies, please read Pizza Hut's Allergen Handbook.
Can I order more pizzas?
Absolutely! We can order more pizzas, either Margherita or Pepperoni, or even 'Squad Sides' for your group. Our 'Squad Sides' include a selection of 5 sides of your choice between Breaded Chicken Strips, Chunky Potato Wedges and Warm Chocolate Chip Cookie Dough. Please see our Venue Menu for a full list of any additional orders.
Should you wish to order any additional pizzas, these can be pre-paid in advance by giving us a call on 0208 935 5638, or ordered on the day when you're with us by speaking to the Events Staff at the start of your event.
Can I change the tomato base to a BBQ base?
No - we like to include some fresh, hot pizzas free of charge, as it's a lovely way to wrap up the session with warm food in the middle of the forest!
Do you have a Vegan and/or Gluten Free option?
We can order additional cheese-free pizza, or the Chunky Potato Wedges within the 'Squad Sides' are also vegan. We can also now order additional Vegan Cheese Pizzas too, which come as a 9" Pizza Hut Pizza at just £10!
We can also order a Gluten Free pizza on top of the Margherita ones that are included free of charge - these Gluten Free pizzas are £15 for a Medium size, as they are a slightly different, and larger, base to the Standard. Remember there are no restrictions at the venue so you can also bring your own food, snacks and drinks with you.
Is there a shop at the venue?
Yes, we have a small cafe/shop on site serving hot/cold drinks and snacks. This is perfect for any additional snacks, or for any parents/guardians to have a hot drink whilst waiting for the session! Please see our Venue Menu to see what we have to offer.
Can I order other food to the venue?
No, we do not accept deliveries from alternative vendors as we are already ordering in such bulk from our local Pizza Hut, and outside deliveries will be turned away. If you wish to add on any additional pizzas or 'Squad Sides' from Pizza Hut, please see our Venue Menu.
Can we have the pizzas at the start of the session? When are they delivered to the venue?
The Pizza Hut pizzas are delivered around 10 minutes before the end of the session. With the partnership we're very lucky to have, we are unable to amend any delivery times as we are ordering in such bulk across all our activities and over multiple set delivery times.
Do you provide any cutlery/napkins/plates for the Pizzas or Birthday Cake?
We do not provide any knives, cutlery, plates or napkins, so please do bring this along.
Unfortunately we are unable to provide any knives to cut the cake, or lighters for any candles, so please plan accordingly.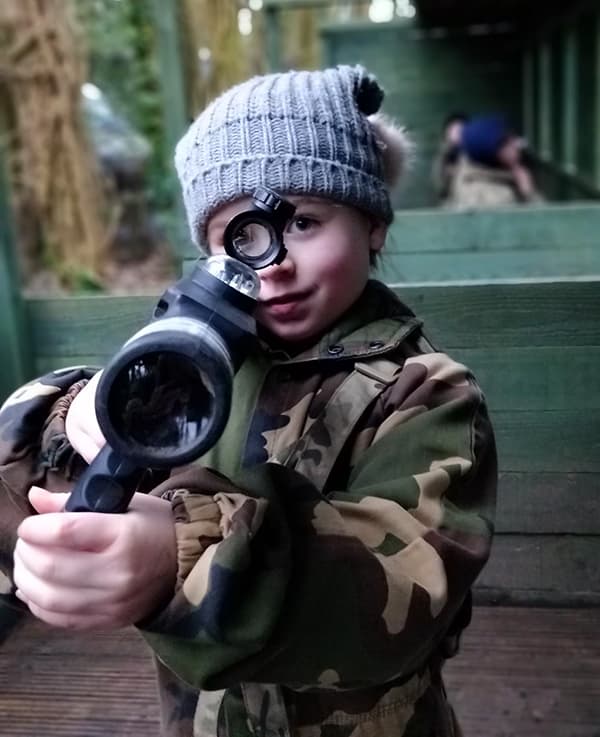 How much is a Forest Laser Tag session and what's included? How do I book?
How much is it to book a Forest Laser Tag session?
All of our Forest Laser Tag sessions are fully inclusive and priced per player, so you just need to book your player spaces in advance! Our normal pricing is £29.99 per player, with no additional costs on the day. If you book for 10+ players, you'll automatically receive our 'Party Package' discount, which is a great saving across a large group, working out at just £27.50 per player!
You can check availability and book your spaces here.
Is there any difference in pricing between kids and adults?
No - all of our pricing is 'per player' (ages 6+) to ensure every player, regardless of their age, is getting the best, fully inclusive deal. There is no need to pay for non-players or spectators.
What's included in the 'Party Package'?
We know that organising people can sometimes not be as simple as it should be, so we have a lovely bonus for organising a larger Laser Tag party! Our 'Party Package' is what we like to call the discount that is automatically applied when you book for 10+ players - working out at the amazing rate of £27.50 per player! This does not amend the type of booking it is, as it is still the fully inclusive Laser Tag session, just a great bonus to help you out for organising a larger party. Of course, we will always celebrate a birthday regardless of your group size - remember there is absolutely no pressure to have a minimum or maximum number of players.
Do the other players get dog tags, as well as the Birthday person? What if there are 2 players in my group celebrating their birthdays?
We love celebrating birthdays, so every birthday person will get a 'Squad Leader' dog tag free of charge regardless of your group size!
We do have the option to order 'Battlefield Expert' dog tags for the friends and family - a lot of parents opt for these instead of party bags as they are really cool keep-sake tokens. These extra dog tags are just £3.50 each and can be pre-paid in advance or purchased on the day when you're with us.
Do you provide party bags?
No, but dog tags are such an awesome token for any goodie bags! There are no restrictions at the venue should you wish to bring the party bags along with you.
I'm not sure on my confirmed numbers - can I amend my player number after booking?
That's okay! We would definitely recommend getting the majority of those your inviting confirmed initially to avoid any disappointment with availability on your preferred date. If we still have availability on your session we can always add players on at a later date - just give us a call and we can check availability for you! Try to do this as soon as possible, because if we do become fully booked (as this is live availability only, this can happen at any point) it will become really difficult, and may not be possible, for you to add any additional players. Preferably, adding on players should only between 1-2 players, so do try and get the majority of confirmations first. Bear in mind it is subject to our availability.
You MUST check with us (by calling us or checking availability online) before telling the additional player that they can play, or inviting them, as they may be disappointed if we are fully booked.
If your numbers do reduce within 24 hours from the moment of booking (and this is at least 7 days in advance of your event), please email us at hello@golasertaglondon.co.uk. This is the only point where we would be able to offer a 100% money back guarantee. Please see our Terms & Conditions for more information.
Can you hold spaces for my date with a deposit?
We cannot hold any spaces for your preferred date as it is all live availability online. There are no deposits - all you need to do is just book for the spaces you need in advance. Bear in mind, subject to our availability, we can always add on additional players at a later date so you can always book for those who have 100% confirmed to ensure your whole group doesn't miss out!
What's included in the booking? Are there any additional costs on the day?
Our Forest Laser Tag sessions are all fully inclusive, action-packed fun! Absolutely everything the player needs is included - the camouflage overalls, use of our 3 different awesome, Fortnite-themed guns, and a quantity of free Large Pizza Hut pizzas for the group to share (3-4 large slices per player), and a bottle of water per player. We even include 'Squad Leader' dog tags for any birthday person! There are no additional costs on the day, as all sessions are fully inclusive.
Can I turn up with additional players on the day?
All sessions have limited capacity time slots, so all players will need to be booked on in advance. We will have to turn players away if we are fully booked, and with a lot of our events fully booking up to 4 weeks in advance we would always recommend to book your spaces in advance to avoid any disappointment.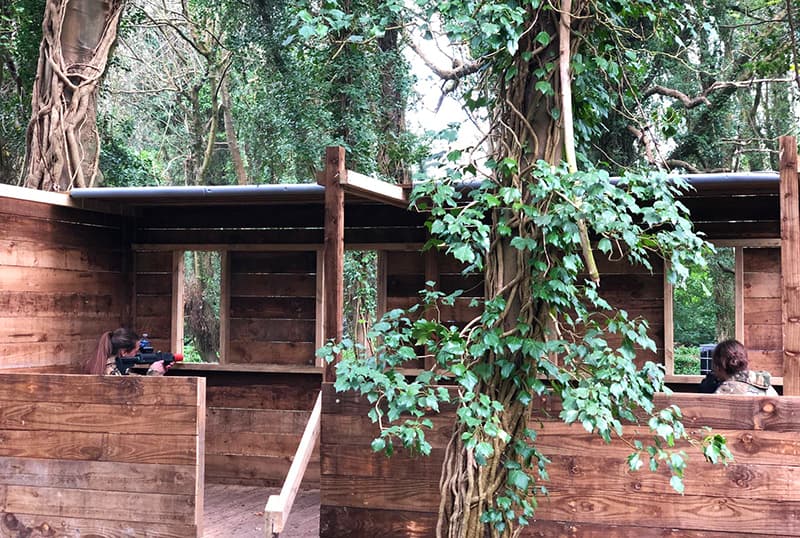 How do I get to Go Laser Tag London?
Do you have parking on site?
Yes! We have free parking on site for all of our customers, with our venue being based just 5 minutes from Junction 6 of the M25. This is very limited, so we strongly advise car sharing, i.e. 2 car spaces for an 8 player party.
Individual cars dropping off 1 player each can cause massive car park congestion, and stress for you as the organiser with late arrivals, so please do car share as much as possible.
Do we need to book car park spaces?
No, but we do encourage car sharing as much as possible as there are limited spaces on site. This also ensures your group is there together on time! We will always try our best to make sure everyone gets parked and signed in as soon as possible upon arrival. You do not need to send us your license plate numbers to ensure a parking space.
Please note we park per activity, so if you are leaving the venue and coming back for pick up time, please let the Events Team know and they can park you accordingly upon arrival.
I don't drive - is there a way to get to you by public transport?
Absolutely! The great thing is, wherever in the south of England you are travelling from, we are conveniently located. Being only a 35 minute train journey from Central London, we are the closest outdoor venue to Central London.
Our closest overground train station, 'Whyteleafe South', is just a 10 minute walk away from the venue and also within Zone 6. If travelling by another train line, 'Upper Warlingham' train station is also a 20 minute walk away, with convenient cab services nearby.
What are your office opening hours?
Our office hours are generally 9am-5pm, 7 days a week. Please note, Saturday and Sundays we are busy running events, so if we miss your call, please do leave us a voicemail and we will call you back as soon as possible. Alternatively, you can send us a message on Whatsapp on 07808 519683 and we will reply as soon as possible.
Cancellation and Refund
What is your cancellation and refund policy?
Any player in your booking who is no longer attending, or fails to arrive for any reason, will not be refundable or transferable, as your spaces are confirmed and locked in for your Squad upon booking. The great thing is that the spaces are not name specific, and are yours to use and fill as you wish. In the rare instance that someone lets you down (even with notice) please feel free to find a replacement player - often parents/guardians/siblings are a great option to get involved in the action and gives them the opportunity to even shoot their own children! Either way we will still order a group's full quantity of large Pizza Hut pizzas for your Squad to share.
Each booking reserves your spaces for that chosen date/session and is non refundable or transferable without exception. No shows or drop outs affect our events massively in a negative way as we have reserved spaces for any attendees, booked and paid for Events Staff for those spaces, regularly turning away many other customers due to being at full capacity. Any booking made within 7 days of your event date is not transferrable to another date under any circumstance, as staff are already booked for your group, and it is too close to your event to resell your booked spaces.
Our 100% money back guarantee is only offered to bookings that are booked at least 7 days in advance and are cancelled within 24 hours of the booking has been made. All cancellations must be made via email to avoid any time discrepancies. Please use hello@golasertaglondon.co.uk for this. All bookings beyond the 24 hours confirmation window of being made are strictly nonrefundable. Once your event is confirmed onto your chosen date, any change of that date by you. For your event is subject to a rebooking and reactivation fee of £10 per player. If you wish to change the date of your event we must have payment and confirmation of a new date by the time of the original event date. Any booking date that is changed must be re-booked for a date within the following 2 months (subject to availability).
Events at our forest venue will run until we are told otherwise by the government or governing bodies. For any Events that have to be cancelled due to circumstances outside of our control (which may include but not limited to acts of God, government restrictions, natural disasters etc.), no refunds will apply. All groups will be offered full flexibility on rebooking a new Event date free of charge which will be valid for up to 13 months from the original event date. Please see our Terms and Conditions page for full details.
Any further questions?
Please feel free to get in touch with our friendly team on:
0208 935 5638 (weekdays)
07808 519683 (weekends)
hello@golasertaglondon.co.uk