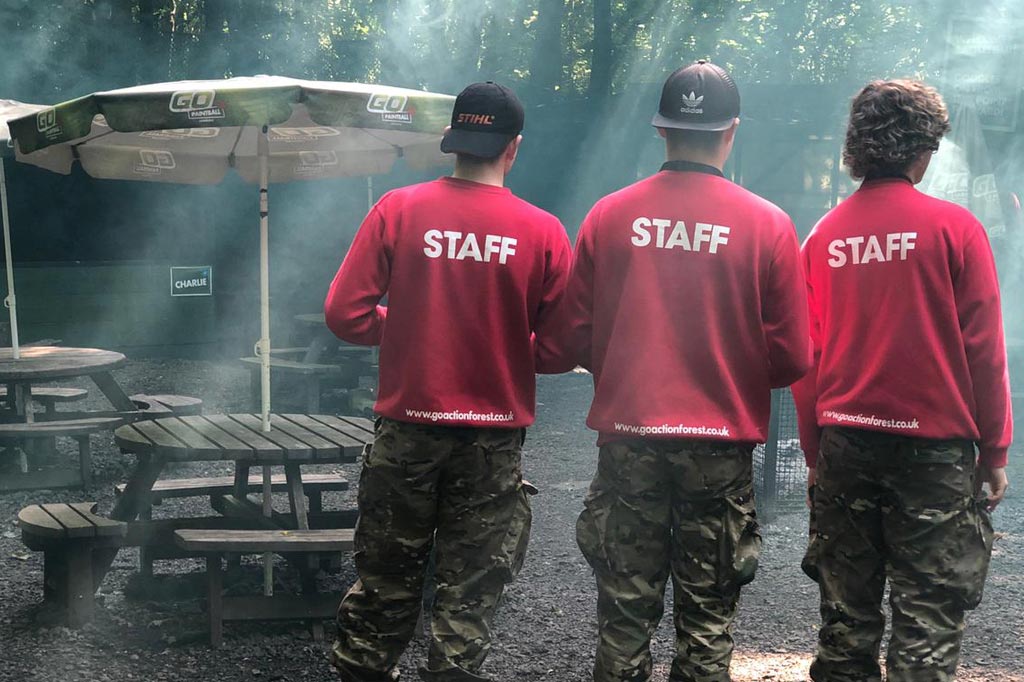 Team building is a vital aspect of any business, with good working relationships and high morale contributing significantly towards efficiency and productivity. GO Laser Tag London carried out a survey to establish which activities modern employees think are most beneficial for team building.
Most people, at some point, will have taken part in a team-building or "bonding" activity at work. While these experiences can be awkward and less than enjoyable, there are a number of activities available that can be exactly what a team needs to work better as a unit. GO Laser Tag asked over 500 individuals which activity proved most popular and effective for team-building.
Laser Tag/Paintball
When it comes to team-building activities for employees, paintball remains a popular choice for an exciting day out. But in the digital age where technology reigns supreme, laser tag for adults has increasingly become a go-to activity for those who enjoy the thrill and competitive spirit of realistic combat. What previously would take place in a small dark space with flashing lights has evolved into a sport where players can explore forest-based battlefields and use team-tactics to overcome their enemies – or in this case, their colleagues.
While the appeal may stem from the chance to get one over on your workmates, a day of laser tag requires communication, planning and the ability to work effectively as a team – all skills vital in and transferable to the workplace. This ever-popular activity claimed enough votes to make its way into the top five and solidify laser tag as a genuinely beneficial team-building activity. So now's the time to rally the troops!
Work-Based Ice Breakers
Ice breakers are popular among employers as they're quick, easy and relatively cost-effective to implement. While these types of activities may not be as exciting as a day of paintball or another physical or competitive sport, there's a lot to be said for giving employees the benefit of getting to know each other better and realising how much they have in common with their colleagues. Despite this, the survey results indicate that this might be a more popular activity with employers rather than employees.
Problem-Solving Games
Problem-solving activities such as escape rooms have enjoyed great success in recent years, offering people an exhilarating experience that requires those involved to use logic and creative thinking to complete a range of tasks. At a glance, this type of activity may seem somewhat of a novelty, but the importance for employees to possess problem-solving skills is often underestimated, making escape rooms and similar tasks worth their weight in gold. It's also certainly proving popular with employees, with almost a quarter choosing problem-solving activities as the best team-building activity. Players need to use their brain power and work with others to unlock the potential of the whole team.
Adrenaline-Fuelled Sports
We live in an era where leisure activities and sports are bigger, better, and more exciting than ever – activities such as Zorbing, rock climbing and water sports are a common choice for employers. Despite this, adrenaline-fuelled activities claimed the fewest votes in the top five – indicating that taking employees out of their comfort zone and encouraging them to face their fears may be something best left to the thrill-seekers in the office.
Nights Out/Work Party
Every employee is different, and it can be challenging to find team-building activities that suit the needs of the majority. When it comes to getting to know colleagues, work parties and meals prove the most popular (which is no surprise) team-building activity. This might not require work-related skills or creative thought, but it does allow employees to interact in a stress-free environment and get to know each other on a more personal level – an easy way to create a happier and more productive work environment.
Are you a business owner looking for the perfect team employee-building activity? Look no further! Laser Tag not only provides players with an adrenaline-fuelled, realistic combat experience, but it also encourages communication, team tactics and is fantastic for morale. Sound good? Get in touch today to book an unforgettable day of laser tag.